♥ FDA CERTIFIED ♥ #1 TRUSTED HOME DOPPLER ♥
CLASSIC FETAL DOPPLER
(Available for US Customers only)
❤️ OUR #1 BEST SELLER! ❤️
❤️ GET YOURS AT $30 OFF NOW!
(**sale for limited time only)
ORDER NOW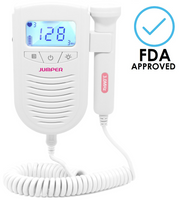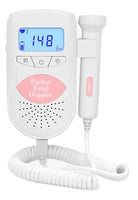 BABYROSE FETAL DOPPLER
(Available for CANADIAN Customers only)
❤️ CANADIAN MOMS FAV! ❤️
❤️ FDA APPROVED! $30 OFF NOW!
(**sale for limited time only)

ORDER NOW
♥ OUR HAPPY CUSTOMERS ♥
⭐ ⭐ ⭐ ⭐ ⭐

Great product! 
Gave my wife peace of mind. As advertised, let's you listen to baby's heartbeat whenever you like. Our beautiful boy is now two months old and it's amazing to think of all those times we listened to his heart beating in utero month after month.

Dean Weinberg
⭐ ⭐ ⭐ ⭐ ⭐

Arrived quickly and was exactly what I was looking for! Works perfectly!

Michelle Manson
⭐ ⭐ ⭐ ⭐ ⭐

It works great! Love hearing my little one heart beats! The price is good and the seller is amazing.. they took time to contact me to make sure I received my Amplifier. Very professional... I'm sure you will enjoy it as much as I did. The monitor says around 145 and when I see my doctor it says the same! ❤

VELVETWEB02
WHEN CAN YOU START HEARING YOUR BABY'S HEARTBEAT WITH THE HEART DOPPLER?
Your baby's heart beat can usually be monitored anytime after the 12th - 14th week of pregnancy. Some have heard it as early as 10 weeks, however, most Moms hear it after the 12th - 14th week. You might want to check instructions and learn how to hear baby heartbeat at home.
GET MY DOPPLER NOW
30 DAYS MONEY BACK GUARANTEE
If you're not happy with your fetal heart rate monitor, reach out to us within 30 days of your purchase and we'd gladly give you back your refund :)
(For more details, you can take a look at our Refund & Shipping Policy)
TRY IT NOW